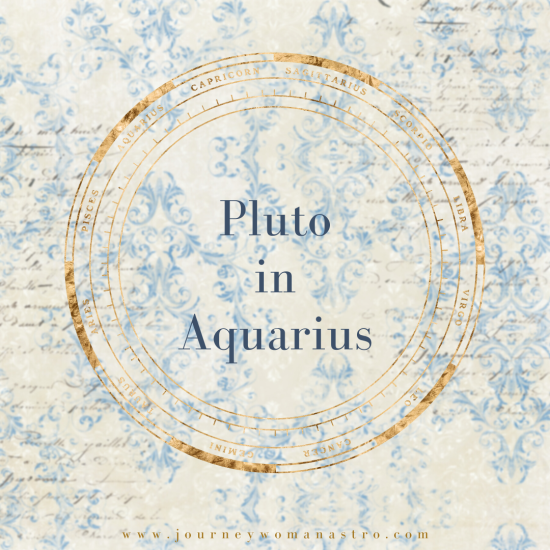 March 23 – June 12, 2023
January 21, 2024 – September 2, 2024
November 20, 2024 – March 10, 2043
This year, we've experienced the beginnings of Pluto's upcoming tour through free-thinking, experimental Aquarius. Over the course of Pluto's 20-year stay, we're likely to see sweeping, innovative changes in culture, society, technology, and even governments.
If you've been on the planet this long, think about the vibe of the last 20 years: the grinding encounters with necessity, lack, and environmental disasters and destruction; the widespread, reprehensible revelations leading to the world-changing #MeToo and Black Lives Matter movements; the increasingly cruel last-ditch efforts from fading patriarchal and supremacist structures to hold onto power (the war in Ukraine, for example, not to mention the presidency of Donald Trump). Pluto in Capricorn hasn't been fun, to put it mildly.
It's time to say goodbye to all that. In my eternally optimistic Sag Moon opinion, Pluto in Aquarius will see the ascendance of precisely opposing themes. Ideally, these changes are liberatory, focused on increasing freedoms for individuals, particularly women, people of color, and other historically marginalized groups. While Pluto is in Aquarius, where respect for individuals and their autonomy and agency aren't increasingly recognized, we could see continuing clashes between revolutionary or extremist elements and an entrenched, conservative old guard. The recent protests in France's banlieues over the senseless killing of an innocent teenager are just one example. There are likely to be more.
But that's not all, folks. Scientifically and technologically, recent advances in nuclear fusion and quantum physics, along with the advent of ChatGPT and similar artificial intelligence, suggest the next 20 years could be truly ground-breaking. Remember that indie group We Were Promised Jetpacks? Maybe we'll get those jetpacks after all.
The transformative effects of Pluto in scientific, future-oriented Aquarius could spell even odder developments: though few seem to have noticed, some in the U.S. military think they're seeing regular evidence of aliens. Will Pluto in Aquarius bring contact with other life forms?
The future is now, and it's going to get weird.
On the personal level, Pluto will be hanging out in the early degrees of Aquarius and the final degrees of Capricorn for quite some time—into 2025. If you have planets or angles aspecting these degrees, you're now experiencing a once-in-a-lifetime Pluto transit. Whether sextile or trine (generally considered supportive aspects) or in square, opposition, or conjunction, these energies are likely to be powerfully transformative.
The key to dealing: titrate. Allow yourself to take time to integrate what's changing now. There's no pressure, because it'll be happening for a while. Take it easy, let things in slowly, and focus on staying grounded and in alignment with your own needs and highest purpose. Over the next couple of years, you'll find the messages and freedom you need.
Want to know what Pluto will be aspecting in your chart over the next couple of years? Drop your birth data in the comments and I'll let you know.
Curious about your chart?
Explore your astrology with a professional
I offer several consultations:
A

getting-to-know-your-chart

session is ideal if you're new to astrology and curious about what your chart reveals.
In our

overview of the moment

session, discover the nature of the present time using transits and other powerful predictive tools.
An

in-depth session

can explore a relationship or advanced predictive techniques, such as progressions, solar arcs, or lunations. This session can also be aligned to any other questions you have, allowing time to delve into the wonderful insights astrology offers.